What a week and weekend huh? First there was USITT all week and then the iPad get launched on Saturday! I think it is time to come back to reality. What better way to come back down by kicking off the month of April with the monthly column, Where is the Industry Heading. This month brings an interview with a lighting design located right here in Washington, DC, Andrew Griffin.
I have had the pleasure of meeting Andrew once at a watering hole of choice downtown back in thanksgiving.  Since then Andrew has been just as busy as myself in, around and out of town.  Andrew just flew into DC Sunday for the Helen Hayes Awards that happen tonight, Monday April 5th.  Andrew was nominated for Outstanding Lighting Design, Resident Production for his design of A Midsummer Night's Dream, Synetic Theater. Good Luck Andrew we'll all be awaiting the news view twitter!

In regards to paperwork, how has that changed from when you started to where you are now?
I'm still a "young whippersnapper" so the methods haven't changed too largely, it's always been Lightwright and Vectorworks for me. What I will say is I am beginning to do more on paper and less on the computer though. I used to try do everything paperless, I had my Lightwright file, my Vectorworks file, I did all the prep work, magic sheets, everything was in the computer. But I found myself losing touch with things. Now when I design, I do the rough plot, sections and first draft of the paperwork by hand. It really puts it all in my head and helps me to understand the scope (and it's easier to throw to an assistant to draft if you are swamped). When I am assisting, I always have an instrument schedule in my back right pocket, and a channel hook up in my back left and carry a pad of paper. I can answer questions faster and I am not depending on a computer, and honestly it's not that hard to spend 15 minutes with a computer to reconcile it all at the end of the day.
What are your thoughts on LED's in general for use within the industry?
I think once it's better and more affordable that I am all for it. It will make theatre's more efficient, and really provide some wonderful ways to enhance designs. All that said, we need to make sure that as people are in school learning the craft that they don't learn to become dependent on this kind of technology (or any for that matter). I find that as automation and technology begins to dominate our field you have people saying things like "Well I can't do it without…." "If I had X I could do Y" etc, and that gets really frustrating to hear.
What challenges do you face with the ever changing console architecture?
Really just learning to talk the board. I am typically in the world of ETC Palette consoles (Eos / Ion / Obsession II) so by and large the vocabulary is the same, but the capabilities are so great. I try to skim through the manual and play with the offline editor when I am faced with a new console. It's also so much harder to go backwards. I lit a show on an Ion console and the next week lit a show on an Express 125. You start calling for things that aren't there and if the operator doesn't know palette – for example calling UNDO when you're on an express when you really mean RELEASE – and you get to miss those features. But you learn little tricks to make those older boards bend and pretend to be better consoles.
Does 3D rendering provide a reliable method for developing a concept while designing out a production?
For the lighting designer – at home individually – yes. It allows you the freedom to play and conceptualize. I don't think the renderings are shareable yet, though. I know I've seen some portfolios that have computer renderings of light, and then you see the pictures from that show and they are so different: the colors are off a bit, it doesn't take amber drift into consideration, the gobo rendering isn't perfect, etc. People sometimes get married to the ideas they see in meetings. They especially get married to computerized images because the assumption is the computer is infallible and what is printed must be capable in reality. I still think bringing research images, and rough sketches (I do pastels sometimes) are a great way to show your intent.
Do you feel that projection media is a form of lighting or should it be considered a separate field?
It is a separate field. I can't think of one successful show in which we used projections that there was no projections designer. Whenever productions try and roll another designer already on the project into that projections role it just doesn't work. Invariably they will be needed for their primary discipline during tech, where most of us are really doing our job, and then the projections suffer. It's hard in these times because companies want to save money, but the reality is it's a separate discipline and so you really need a designer whose primary field is projections to solve the problems and interact with the rest of the team to get everything just right.
Looking back at a past production, how would you change it with some of the latest technology out on the market today?
I don't think I would.  You do all your shows to the best of your ability with what is available to you at the time. While you learn from your limitations, you don't have to dwell on things you wish you'd been able to do. I think there is a particular importance of designing with limitations, and while technology can solve some problems and enhance the design, I don't think technology ever trumps design.
What new or upcoming technology has the potential to change the lighting industry?
It's so hard to say really. Technologies are moving so fast and influencing each other. I really think LEDs are the biggest mover is terms of dealing with how approach color and light, but, when I think of "to change the lighting industry" I don't really look at the stuff that's out there now. It really hasn't changed anything. Take LED's, sure they are brighter and more efficient, but how is it different than putting a Morpheus CMY fader on a unit? It's more vivid, yes, and more intense, but the approach is still the same. It's not like when color changers were first introduced and suddenly one light could change colors in a scene without a person on a light bridge changing the color, or the introduction of the moving lights that could refocus itself on scenery as the scenery moved. I think the next 5 to 10 years are going to be really interesting seeing what technology develops out of what is out there now in conjunction with the unending imagination of designers.
What advice can you give to a beginner looking to make it in the industry?
First and foremost you have to love doing this, and you have to love every aspect. It's not just about lighting and the art, it's about running your own business. Be ready to network at opening nights, send your resumes frequently (and frequently never hear back), keep your website up to date, carry your portfolio on your iPhone just in case because you have to make the most of every opportunity, and being able to see opportunities in everything, even rejection, is important. Don't be a jerk, smiles and laughter is lot better yelling. It is possible even for talented designers to get blacklisted from theaters because of their bad attitudes. Don't stop learning. Assist all you can, and assist openly with learning in mind. Finally, when it comes to your work, you need to know how to critique yourself. After every show I do I give myself a grade and write about what I liked that I did and what I thought could have been better. It's really helped me develop my eye.
Do you have any tech-table rituals or traditions?
Something I have picked up from a designer I assist in DC, Arts and Crafts time, which is the time I make my magic sheets and set up groups. I really prefer to make my magic sheets by hand while doing a channel check at the table. I typically print anywhere between 9 and 12 ground plans on 8.5×11's, have my box of crayola markers (you're never too old) and just have some quiet time with the board op hopping through channels and making the sheets. The combination of calling the number, writing it down, and placing the number on the ground plan really helps me get the plot into my brain, and also really gives you command of the magic sheets. I have done them on the computer, but often find myself searching for obscure channels later that I wouldn't typically search for if they were done by hand. Also, using 9 to 12 8.5×11's taped to your desk means people tend to not put their stuff all over your table. Finally, I stand for the majority of the time while I cue. I will sit from time to time, but for some reason or another I am typically standing while I tech.
What is your favorite gel color and why?
I cant really say I have a favorite. It changes from show to show, week to week. I like to try new colors to keep myself from getting dependent on one color, and if I see that I am I will cut it from my color palette for a few shows to ease the dependency. The last show I did the favorite color was L729, a beautiful green with a touch of blue that really made a graveyard sacrifice scene just right (I love my job). Prior to that it was L712, which is kind of like the L201 of lavender in my book. Not too saturated, but just enough to really give that punch and drifting on the cool side of the spectrum. But I could really go on for a while on my feelings about color, I've been really looking at it in a different way recently and it's lead to some wonderful results.
More about Andrew: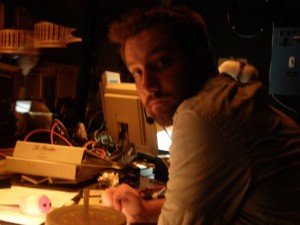 Since completing his undergraduate degree, Andrew has been a full time Lighting Designer and Assistant based in the Washington, DC metro area. He is one of the principle Lighting Designers for Synetic Theatre, for whom he has designed: Host and Guest (DC and New York) Dante, Dracula, A Midsummer Night's Dream which received numerous Helen Hayes Award nominations including Outstanding Lighting Design, and this summer he will design Othello for Synetic at the Kennedy Center. Andrew has also created designs for companies including Olney Theatre Center, Woolly Mammoth Theatre, Toledo Opera, Studio Theatre, Michigan Opera Theatre Children's Chorus, Imagination Stage, Forum Theatre, Rorschach Theatre, Journeymen Theatre, Washington Shakespeare Company, and the Delaware Shakespeare Festival.
As an Assistant, Andrew's work has been varied in both Theatre and Opera. He has been the Resident Assistant Lighting Designer for Michigan Opera Theatre in Detroit, MI since the spring of 2007, where he assisted on the world premier opera Cyrano, written by MOT General Director David DiChiera, and has remounted productions for the company in both Chicago, IL and Lansing, MI. In DC, Andrew has worked as an Assistant Lighting Designer for Woolly Mammoth Theatre, Olney Theatre Center, Round House Theatre, and the Folger Shakespeare Theatre for designers including Donald Edmund Thomas, Colin K. Bills, and Dan Covey. For more see his website, www.andrewFgriffin.com.
Share

Comments