This months column, Where is the Industry Heading is an interview with Gregg Hillmar. You may have heard my talking about Gregg recently with the release of his latest book, Light Plot Deconstructed, which is a tutorial guide for Vectorworks and developing a light plot with in the software. Gregg is also an accomplished lighting and set design right here in the commonwealth of Virginia.  He also teaches what he practices as the lighting design professor at Randolph-Macon College.
In regards to paperwork, how has that changed from when you started to where you are now?
In "Ye Olde Days," I traveled with 100's of sheets of printed blank forms. As a show was designed then altered, we filled in all of the paperwork by hand, again and again and again. The rise of the personal computers in the '80's changed that- I initially used a word processor or spreadsheet to keep paperwork up to date. Eventually I developed a Filemaker database that I used for years. Lightwright then evolved into my favorite computer paperwork program.

But' we were still entering all of the information "by hand." Its much faster than pencil and paper, but it was still manual entry. The new generations of CAD (Vectorworks in my case) developed ways to output information that could be imported into paperwork programs. Lightwright and Vectorworks have now made that a relatively painless operation; changes in one program automatically update the other, so while making the choice is still the designer's job, the programs now take some of the drudgery out of the process. Networking abilities also allow M.E.'s to share info with designers and others using the programs, another time and effort savings.

Now, if only we could do something similar with cueing software…
What are your thoughts on LED's in general for use within the industry?
Well, we're at an interesting point. I think LED's have great potential, and work well for "flash-bang" and other situations where the light itself is the visual element. I don't think LEDs are going to be replacing incandescent lamps anytime soon as traditional lighting sources, tho. Designers need the ability to change color, intensity, beam size, shape, and angle as we have since the advent of "modern" theatrical lighting in the early 20th century. LEDs don't meet some of those needs well enough- yet…
What challenges do you face with the ever changing console architecture?
Keeping up with the nomenclature and knowing "how to talk the board" to an operator during techs.
Does 3D rendering provide a reliable method for developing a concept while designing out a production?
As a scenic designer, yes I think so. Lighting a 3d model is still not the same as lighting in real space, tho. While I can use the results to talk to a director, I'm not happy with it as a "reliable method" of communication about a Lighting moment.
Do you feel that projection media is a form of lighting or should it be considered a separate field?
It's definitely a separate field that combines elements of both scenic and lighting design and technology.
Looking back at a past production, how would you change it with some of the latest technology out on the market today?
Beverly Emmons and others have worked to make some of the original plots from Jean Rosenthal and other important designers available online. Looking at those and thinking about my early designs, I am struck by how we've moved from few instruments to many- from the broad stroke to a fine line. The sheer amount of illumination has also changed over the years. Plots I did with 70 instruments now would need 170. Or more.

But for me, cueing is the biggest difference. One of my first professional designs used racks of autotransformers and rotary dimmers. There were cues that took 6 or 8 people to accomplish. The whole show had maybe 60 cues, and that felt active to the crew. A year or so back I designed a musical that had more than 60 cues in the first number, and once the stage manager and board op got the rhythm, it was not difficult. That is the technology that I'd most like to redesign an old show with.
What new or upcoming technology has the potential to change the lighting industry?
Colour mixers and remote shutters' I want to see these things even in non-moving lights. Where now I have to double up instruments; one for act I and one for the same area in act II with different cuts and colour' Add the cost savings of using LEDs and, -if affordable- instrument like that could change the industry.
What advice can you give to a beginner looking to make it in the industry?
WORK! Even if for nothing! DO THEATRE! I see so many people interested in theatre that don't do summer stock because they can make more money working at the fast food place, or who think working for little or no money is demeaning. The more theatre one can do- even if not getting rich- the better they will be. LOOK and LEARN!
Do you have any tech-table rituals or traditions?
There is always a stash of ATOMIC FIREBALLS (cinnamon "jaw breakers") at the tech table- or close by. I buy 'em direct so they are always fresh' and hot!
What is your favorite gel color and why?
Don't know if it is a favorite really, but most of my plots have R69 in it somewhere. I just love the blue-green combination, especially if I can contrast it with a reddish-blue from another angle. Its not just for moonlight anymore.
More about Gregg Hillmar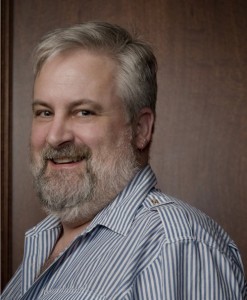 Gregg Hillmar is a scenic and lighting designer based in Richmond, VA. His work has been seen in 100's of productions at theatres all across the country. Dance and opera designs include national tours and major regional companies. Non-theatre work includes galleries, exhibits, and shows for clients such as The Library of Virginia and The Science Museum of Virginia. Gregg is a recognized and published consultant in Vectorworks, a 2d/3d CAD software package, including the book LIGHT PLOT DECONSTRUCTED. In his copious free time, Gregg teaches at Randolph-Macon College in Ashland, VA. Gregg is a member of United Scenic Artists Local 829, the union for professional theatrical designers and artists, and can be visited on the web at www.hillmardesign.com.
Share

Comments