This months interview for the continuing column, Where is the Industry Heading, I got a chance to talk with Edward Warren.  Edward is a fellow lighting designer based in London, England and runs his own lighting design firm, Next Level Lights. You may know Ed from his twitter name, @edforever. Ed takes a a couple of moments to talk with me about technology and where he thinks the lighting industry is heading.
In regards to paperwork, how has that changed from when you started to where you are now?
The only time I've ever really used paper is to sketch down initial ideas or notes, or to look at print outs of plots. Everything else has always been computer based. Paper is annoying and just ends up gathering in the bottom of my bag or being thrown at sound engineers in the form of paper aeroplanes.
What are your thoughts on LED's in general for use within the industry?
Obviously the environment issue is a massive factor. Anything that draws so little power but still has a such a strong effect can't be bad. The trick with LEDs is making them look different to what everyone else is doing. Far too many people are lazy with them and everything ends up looking the same.
What challenges do you face with the ever changing console architecture?
None really, its getting easier. Once you get over the initial hurdle of finding out where certain buttons and functions are located you realize they all do pretty much the same thing but in slightly different ways. Using a new lighting desk for the first time, to me is like playing a computer game. I love it. I've tried my best to learn as many different types of desk as possible, its just a question of finding the one you're most comfortable with.
Does 3D rendering provide a reliable method for developing a concept while designing out a production?
As a touring LD you don't always get the production rehearsals you dream of. Using visualizers has saved me countless hours of work, which then takes the pressure off on the first few dates of a tour as you're not wasting time messing about with fiddly bits which can be a bit stressful. Still, I'd prefer to have those production days. Nothing beats real life.
Do you feel that projection media is a form of lighting or should it be considered a separate field?
All depends on what you mean by projection media. I saw Phoenix last year and Jojo the LD was running projections and lights from his desk. He didn't use projections in the conventional sense (ie visuals to match the songs), he sometimes used it as a spotlight, he sometimes used it as front light, he sometimes used it to create asymmetric shapes that matched the outlines of the backline on stage. It totally blew my mind. I bet he had production rehearsals!

Of course if you were to use imagery as standard then that's all down to the individual designer. Some LDs are great at coming up with visuals as well as lights and tying them together. I myself prefer to work closely with video people I trust to create a complete design that complements the whole show.
Looking back at a past production, how would you change it with some of the latest technology out on the market today?
I never look back and wish I could change something. Lighting is constantly evolving and I am always learning so for me it's all about looking forward and making the next thing I do even better than anything I've done before.
What new or upcoming technology has the potential to change the lighting industry?
Again, as technology evolves things get easier. Just like how I can imagine its a hell of a lot easier now than it was 20 years ago. Things get smaller, more compact, more powerful, more effective, more versatile, easier to use. On the flipside because of this it's easier to fall in a trap and just coast along. The real trick is to not get lazy or complacent and always challenge yourself.
What advice can you give to a beginner looking to make it in the industry?
Come in with a completely blank slate, don't be afraid to ask questions, and be nice!
Do you have any tech-table rituals or traditions?
On the day of a show I go around breaking as many mirrors as I can while walking under ladders. For bigger shows I do this while opening umbrellas indoors. Hey, I'm still here aren't I?
What is your favorite gel color and why?
You can't beat a bit of 181 congo on a backdrop with white bits in it. I'm all about the Congo.
More about Edward Warren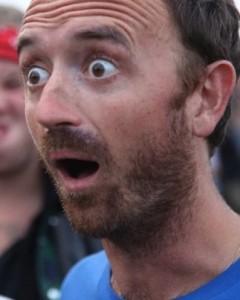 In 2003 I had nothing to do so I started selling t-shirts for a friend's band on tour for £20 a day, not including days off. After a while I got asked to switch on a strobe at a certain point in the set and I never sold t-shirts again. I started touring with more and more bands teaching myself as I went along and taking up the advice of many a house tech and LD. Jump to now; I run my own lighting and production company, Next Level Lights, and get to tour and work with a load of amazing bands who, I hope, like what I do.
A few bands I've worked/am working with:
Florence and the Machine, CSS, Band of Horses, Mumford and Sons, Metronomy, Four Tet, Fleet Foxes, Lykke Li, Laura Marling, Mystery Jets, Klaxons, The Big Pink, Peter Bjorn and John, The XX, Wild Beasts.
Share

Comments