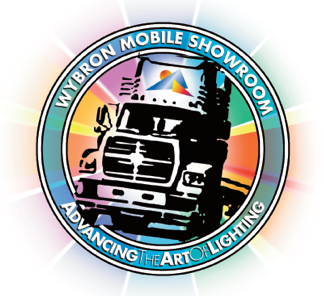 The Wybron Mobile Showroom is hitting the road once again for 2010.  Since it is getting cold outside, the Showroom is heading to warmer pastures and the land of the lone star state, Texas.  December 6th through December 10th, The Wybron Mobile Showroom will makes it way through Texas starting in Dallas and then taking the old cattle trails through Texas ending in San Antonio.
Here is more on the Mobile Showroom from Wybron:
The showroom will make its first three stops — Barbizon, Gemini Stage Lighting & Sound, and Stagelight — in the Dallas metro on Monday, Dec. 6; Tuesday, Dec. 7; and Wednesday, Dec. 8 respectively.
On Thursday, Dec. 9 the Mobile Showroom will open its doors at Olden Lighting in Austin before heading to Texas Scenic Co. in San Antonio for its final stop of the year on Friday, Dec. 10. Each stop will provide visitors with a hands-on survey of new and classic Wybron gear, including the new Cygnus advanced-color LED line, as well as a chance to chat with Wybron staff and enjoy complimentary lunch.
For a map of December stops, or to RSVP for a Texas date, visit Wybron's website at www.wybron.com.
Share

Comments