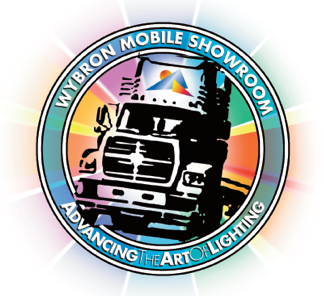 Every time I hear about the Wybron Mobile Showroom's next tour dates, I get Tina Turner's, Proud Mary song stuck in my head.  Just the part, "Big wheel keep on turning, Proud Mary keep on burning, and we're rolling…".  Crazy right?
Back to the Wybron news… Looks like Wybron's Mobile Showroom will be rolling into the Pacific Northwest next week starting in San Clara, California and ending in Portland, Oregon. Here is a little more about the Wybron Mobile Showroom.
A custom-built, state-of-the-art enclosure which has become increasingly popular since its inception in October of 2009. The Mobile Showroom presents a survey of Wybron's stable of products, including the new Cygnus LED Wash Light, in a environment more intimate than a trade show. It provides hands-on demonstration of Wybron offerings and an opportunity for tête-à-tête with lighting professionals, including their local dealers. Most importantly, however, the Mobile Showroom offers education on the general theory behind and mechanics of professional lighting to an audience who may be unfamiliar with either or both.
Here are the tour dates of the Wybron Mobile Showroom for next week:
Monday, April 12 – Musson Theatrical Warehouse, Santa Clara, CA
Tuesday, April 13 – Holzmueller Productions, San Francisco, CA
Wednesday, April 14 – Oregon Shakespeare Festival, Ashland, OR
Thursday, April 15 – Hollywood Lights, Portland, OR
Is the Mobile Showroom stopping near you?  Want to check it out?  Contact Dusty Hudgins from Wybron for more information at 719.548.9774. If you cannot make it to see the Mobile Showroom, you can always learn more about Wybron's offerings by visiting their web site at www.wybron.com.
Share

Comments