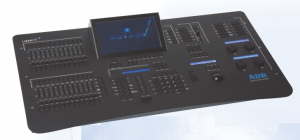 ADB Lighting will unveil at Prolight+Sound, Frankfurt a. M., Germany (Hall 9.0 Stand C50) LIBERTY and FREEDOM, two advanced lighting control desks, based on the very powerful HATHOR software platform previewed earlier this year. These two desks are unique in the sense they have been specifically designed for theatre stage lighting, without any compromise to cover other applications, as it is often the case with so called multipurpose consoles.
LIBERTY is the spot-on solution for space-challenging environments and any cost-conscious venue seeking a fully integrated solution to control conventional and moving lights as well as LED sources and other modern equipment in a compact and portable package with the capacity of much larger and more expensive lighting consoles.
FREEDOM offers the ideal solution when more multi-parameter instruments need to be controlled and fast access is required. The desk allows users to control large quantities of multiple LED fittings, intelligent lights or media servers as well as standard generic dimming systems. Features includes four additional rotary wheels with push button function, a set of special keys to manipulate moving lights, and a super smooth, large size trackball for precision positioning control.
Learn more about the ADB Lighting LIBERTY & FREEDOM Desks by visiting their website at www.adblighting.com.
Share

Comments