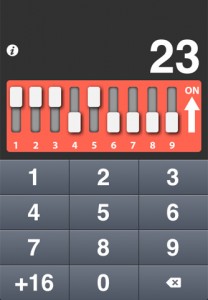 Just when you thought that the DMX Dip Switch market place was saturated enough on the iTunes App Store, another one shows up. Now the good news is, the DMX Dip app is a FREE download from the app store.
DMX Dip is exactly as it sounds, it calculates the DMX address on fixtures that use dip switches for addressing.  The reverse operation is also possible, just use the dip switches in the app like you would use real-life switches, and DMX Dip tells you exactly for which address the fixture is configured.
The app also offers an off-set function for addressing multiple fixtures. You can pick up the DMX Dip app for FREE from the iTunes App Store.  The app is universal and works nativity on the iPad, iPhone and iPod Touch.
Share

Comments