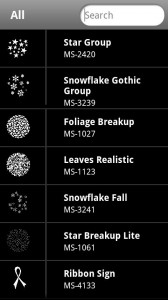 Apollo's iGobo for the Android allows everyone involved in the art of lighting design to conveniently view full screen images of the company's extensive library of standard metal and glass patterns.
The Apollo iGobo feature list includes:
2000 + metal, SuperResolution glass, 1-color glass, 2-color glass and ColourScenic gobo designs
Search the gobo library by name, number, or keywords
Compare up to four gobos at a time on the screen
Rotate an image at variable speeds, either clockwise or counterclockwise
Stack two images and rotate the bottom image in either direction
Plus more!
The Apollo Design iGOBO app for Android is a FREE download from the Android Market Place. Learn more about Apollo Design's Android App by visiting their website at www.apollodesign.net.
The iGOBO app is also available for the iPhone/iPad/iPod touch and for the BlackBerry.
Share

Comments