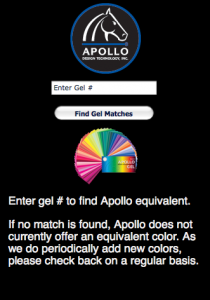 Apollo Design has had a great tool available on their website for converting Rosco, GAM and Lee gel colors to Apollo gel colors.  You can find the original Apollo gel converter on Apollo's website under support.
To help those designers and techs on the road, Apollo Design has launched a version of the Gel Converter web app for mobile devices. The mobile web app of the gel converter is rendered for my favorite device, the iPhone, it still is a web page that can be accessed by any mobile device that has a web browser.
You can find the Apollo Mobile Gel Converter App at www.apollodesign.com/support/igel.aspx.  If you have an iOS device, you can create a "web clip" which will add a bookmark and icon to your home screen on your iOS device for quick and easy access.
One note about using the Apollo Gel Converter, you do not need to put a letter in front of the gel number for the manufacturer. ie: R26.  You only have to enter the gel number, the web app will do the rest of the work for you.
Share

Comments