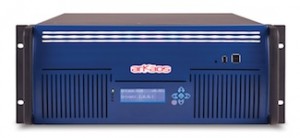 ArKaos announced their latest hardware product, the A30 Media Server. The case has been designed to allow a very efficient air flow. Several fans, protected by a dust filter, are located at the front of the case and can be easily serviced without opening the rest of the case. This is done through a special door that gives access to both the fans and the filter without exposing any cables or electrical connections. This is very handy when working on long tours.
The custom-made case provides a very convenient display on the front which allows the server to be used without the need to connect to an external display. The front cover also provides a large LED strip that gives feedback on the state of operation of the server.
Neutrik connectors are used exclusively on the back of the case to provide sturdy connections. Similarly for the audio, the server provides balanced audio on XLR connectors for both input and output.
It is pre-configured to work directly with all market-leading DMX lighting desks. Everything has been designed so you just have to plug and play. The ArKaos A30 offers playback of nine simultaneous HD layers or six Full HD layers on up to 6 outputs.
Learn more about the new A30 Media Server by visiting ArKaos website at www.arkaos.net.
Share

Comments