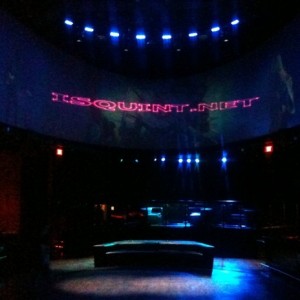 While in Vegas, I have been meeting up almost nightly with an awesome programmer, local and just pure great guy, Aron Altmark.  You've probably heard of or know the name, he is all over twitter, @aronaltmark.
All week long I have have been hearing about Rok Vegas, a club at New York New York from Aron.  Aron and John Musarra, @jmusarra run lights there Wednesday through Sunday. It is a pretty impressive rig with 22 Martin Mac 250s, 12 Axon media servers, three lasers, NUMEROUS RGB iCove fixtures, strobes, foggers and more.
I was invited to play! First, walking into Rok before it opened, the guys had something special for me… iSquint.net projected by one of their RGB lasers! That was fantastic!
Then it was time to start busking.  The guys let me busk one song and man was it fun! Everything was ran off a grandMA series 1 light desk. They had it all setup with executors and sliders for some quick changes and awesome looking lights.
I took a quick video on my iPhone.  It didn't turn out so well for  seeing the lights in action.  Aron shot a quick video that turned out really well and allowed me to share it with you.  Take a look at what these guys get to do every weekend!
Great job guys!  Thanks for inviting me and allowing me to busk, I had an AWESOME time!
Share

Comments