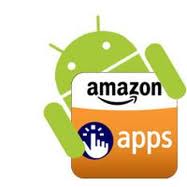 This is a call to action for all those lighting app developers out there. I recently took a step towards the droid side of the world.  NO, I am not giving up my Apple ways.  I still love and use my iOS device daily… most times hourly! I recently acquired a Amazon Kindle Fire. It is the latest Kindle from amazon which features a multi-touch display in color and all that jazz.  It runs a version of the Android OS. I'll explain more about that later.
I recently took a stroll through the Amazon App Store on the Kindle.  Yes, Amazon has setup a separate app store for apps to go onto the Kindle Fire.  Seems odd to me as the apps are the same thing found on the Android Market Place.  Maybe it is Amazon trying to follow Apple's lead and control which apps are avilable on the Kindle Fire.
Regardless. If you are an Android App developer and have a lighting app on the Android Market Place, I encourage you to add it to the Amazon App Store.  From my limited research, it is as simple as registering your current app with Amazon. There are already a hand full of lighting apps on the Amazon App Store. Join the bandwagon and get your on there too!
Visit Amazon's App Store Developer Page to learn more about getting your Droid apps on their store. If you join now, Amazon will waive the $99 developer fee for the first year!
Share

Comments