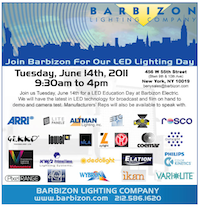 On Tuesday, June 14th, 2011, my alma mater, Barbizon Lighting Company will be holding an LED open house in their New York Office for the Film and Video people of the Big Apple. Barbizon is bringing in over 35 lighting manufacturers to show off their latest LED products for the broadcast, film and video world.  Barbizon is offering demo's on camera testing and manufacturers reps to answer questions and learn more about their products.
When: Tuesday, June 14th 2011 from 9:30am to 4pm
Where: Barbizon Electric, 456 West 55th St (between 9th & 10th ave)
For more information, contact Barbizon Electric at benysales@barbizon.com.
Share

Comments