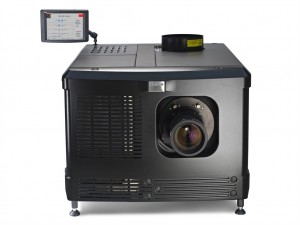 Barco has announced the commercial release of its DP2K-P, a digital cinema projector specifically designed for the needs of the post-production community. Featuring a greatly expanded color gamut, superior contrast, exceptional brightness uniformity and specialized post-production software, the DP2K-P effortlessly meets the stern performance demands of post-production houses as well as the review room requirements outlined in the DCI specification.
Barco's new DP2K-P projector elaborates on the proven platform of its successful DP2K B-series, from which it adopts highly-praised benefits such as optimum light efficiency, lowest cost of ownership, and user-friendly operation. The DP2K-P integrates Texas Instruments' 1.2" DLP Cinema® chip – a forward-looking choice for 4K compatibility. To prevent dust from intruding in the chip, the projector has been fitted with a patented, hermetically sealed enclosure, which guarantees undiminished brightness and contrast levels over the years and allows for the use of reusable air filters.
Barco's new post-production projector comes with a special version of the company's Communicator software package, enabling users to meticulously create and customize their 2D and 3D look-up tables. Thanks to this increased control over the color space, post-production professionals will experience an unprecedented level of accuracy.
Share

Comments