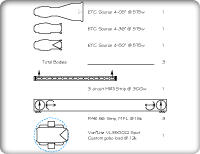 Check it out all you Vectorheads, Joshua Benghiat has release another plug-in tool for Vectorworks called Savvy Symbol Key.  No, by using the Savvy Symbol Key you don't automatically gain coolness points or extra savvyness, but you will work smarter.
The Savvy Symbol Key plug-in object quickly creates an accurate, customizable key to instrumentation.  The setup dialog shows the symbols in use in your Spotlight drawing so you never have to worry about an incomplete key.  You can select and order your symbols as well as set several text, border, spacing and alignment attributes.  With the click of a check box you can show wattages, weights, lamp types and counts.  Counting can be subtotaled to count bodies vs lenses.  Symbols which have the same Instrument Type are counted together, allowing for alternate versions of a single type.  Multi circuit devices are counted properly.
The Savvy Symbol Key Plug-in is available for both Vectorworks 12 and Vectorworks 2011.  To learn more about the Savvy Symbol Key Plug-in or to download a demo version, head over to www.benghiatlighting.com.  If you try, and like it, buy it.  The standard version goes for $19.99 USD.  The student version runs half that at $9.99 USD.  If you are an educator, contact Joshua directly.
Share

Comments