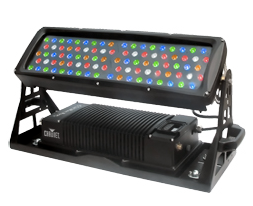 Chauvet Lighting has announced two new LED fixtures to their COLORado series of fixtures, the COLORado Range IP and the COLORado Ridge IP. Both indoor/outdoor wash lights feature RGBWA color mixing. The use of red, green, blue, white and amber LEDs offer more color mixing and better color rendering. Additionally, both feature five distinct dimming curves, an ingress protection rating of IP66, a pressure-equalizing Gore™ valve, color temperature presets from 3,200 K to 10,000 K, built-in automated programs, and a durable, heat-dissipating housing. They are perfect for theaters, outdoor productions and festivals and cover anything from a cyc to an entire stage with just one fixture.
The products differ in the amount of LEDs and the lenses featured in each fixture. COLORado™ Range IP has a total of 180 5W, RGBWA LEDs, two independently adjustable panels, and 15- and 30-degree lenses installed. COLORado™ Ridge IP consists of a single panel with 90 5W, RGBWA LEDs with 30-degree lenses with an option for 15-degree lenses.
To learn more about the COLORado Ridge IP and the COLORado Range IP fixtures, head over to Chauvet's website at www.chauvetlighting.com.
Share

Comments