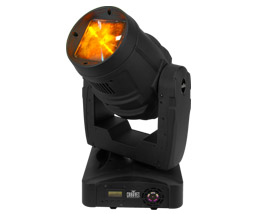 Looking for a lower power consumption LED aerial beam moving head?  Chauvet might have what you are looking for.  Chauvet recently introduced the Q-Beam 260 LED head.
It provides a tight, 6-degree, super-bright beam. Complete with an 8-position color wheel, a 7-position interchangeable rotating gobo wheel, and a 3-facet prism, this light cuts through haze with lightning-fast speed, creating a brilliant shaft of light and defined aerial effects.
Features Include:
Beam angle: 6°
Lux: 6,243 @ 5m
Light source: 1 (white) LED 50,000hrs
High-powered, 60W (12A) LED
Power and current: 120V, 60Hz; 150W, 1.3A operating, 0.3A inrush
AC power: Autoswitching 100V – 240V 50/60Hz
Weight: 27.8lbs (12.6kg)
Size: 13.6in x 12.6in x 21.5in
9 or 12-channel DMX-512
7 gobos + open
For more information, visit Chauvet's website at www.chauvetlighting.com.
Share

Comments