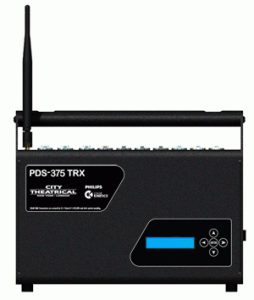 The imaginative minds of City Theatrical are at it again.  The crew from New York have done it again, they have taken something well proven and used in the industry and made it even better.
City Theatrical has just launched a new power and data supply unit for Philips Color Kinetics LED fixtures, the PDS-375 TRX.  The PDS-375 TRX is the little brother to City Theatricals most recent addition to the line, the PDS-750 TRX.
Here is more from City Theatrical:
The unit can be controlled with all popular Ethernet protocols including Streaming ACN, Art-Net, or KI-Net, as well as wired and wireless DMX512, and is fully RDM enabled. Every unit includes a built-in SHoW DMX ® receiver.
The PDS-375 TRX provides full control capability for the new Philips Color Kinetics five color RGBAW ColorBlast 12 TRX, as well as 16-bit and 8-bit ColorBlast 12 TRs, iW Blast 12s, conventional 8-bit ColorBlast 12s, ColorBlast 6s, ColorSplash 2s, and other CKDMX fixtures. Each of the six outputs can be individually configured for the quantity of DMX slots required and the starting DMX address.
Other features include a built-in three port managed switch to provide an Ethernet pass-thru to down stream devices, and a built-In Ethernet node gateway which when using one of the Ethernet control protocols allows the assignment of any of the six outputs (or the DMX output) to one of two virtual DMX512 universes.
The PDS-375 TRX can also reconfigure Philps Color Kinetics LED fixtures remotely via RDM control of Zapi features. To learn more about the brand new PDS-375 TRX power/data supply, visit City Theatrical's website at www.citytheatrical.com and click on What's New on the top left.
Share

Comments