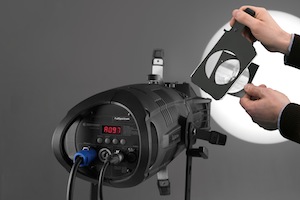 Last week at Prolight + Sound in Frankfurt Germany, Coemar added three new LED fixtures to their Reflection lineup of fixtures.  All of the three new fixtures fall into under the name LEDko.  Nice use of word play if you ask me, mixing leko and LED.
The three new fixtures are the Reflection Ledko FullSpectrum, Reflection Ledko VariWhite and the Reflection Ledko White. Each of the fixture include "multi-LED" light source at 120w for producing uniform beams of light with no pixels or dots, patent pending.The life span of the LED's are expected to last 50,000 hours at 70% lumen intensity maintenance.
To learn more about the different versions of the Coemar Reflection Ledko, visit their website at www.coemar.com.
Share

Comments