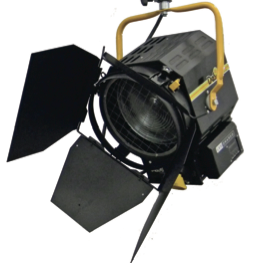 At the NAB Show in Vegss this year, DeSisti introduced their three newest products, the LED Leonardo 40W, 90w and the 120W Fresnel fixtures. DeSisti is stating that the fixtures are equivalent to a 500W, 650W and 1200W tungsten fixtures out put, respectively.
LED retrofit kits are also available for the Tungsten Leonardo 1kW and 2kW Fresnels to convert to 90W and 120W high efficiency LED systems. The above products are available with a Color Temperature of either 3200K or 5600K, in all the versions the lighting intensity can be controlled via a built-in DMX card. The fixtures have the ultimate control with spot to flood focus and excellent barn door cutting. Optically the LED fresnels are equivalent in performance to a tungsten fresnel.
The new LED Fresnel fixtures are expected to hit the market some time this summer.  Pricing has yet to be released.
Share

Comments