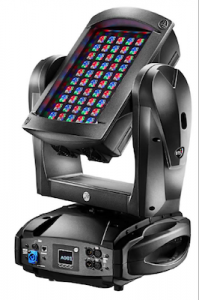 Wireless Solution Sweden AB has announced that they have partnered with DTS Illuminazione s.r.l. to provide OEM W-DMX products in two of DTS's latest products, the NICK WASH 600 and the Delta 10 F RGBW.
The NICK WASH 600 is a self-contained compact high-output LED moving head projector with 13° – 40° motorized zoom. NICK WASH 600 is one of the brightest compact LED projectors on the market with luminosity no less than 9.750 Lumens, ideal in shopping malls, libraries, museums, exhibitions, clubs, restaurants, buildings, monuments, as well as special events, fashion displays, etc.   The unit is easily installable even in the most refined settings, thanks to its attractive appearance.
The DELTA 10 F RGBW is a new colour changer with LED technology, with a high protection rating (IP65), ideal for use both indoors and outdoors. 
DELTA 10 F RGBW is the brightest LED colour changer in its category: 7.000 Lux at 5 meters.
DELTA 10 R ZOOM FAR is a bright LED colour changer: 5.000 Lux at 5 m (15°). In fact its light source is composed of 240 x LEDs (60 Red, 60 Green, 60 Blue, 60 White) with 19.500 total lumens. Robust and resilient, DELTA 10 R ZOOM is designed for the road and ideal for rental applications that demand intense and nearly continuous usage.
W-DMX comes standard in the DELTA fixtures and as an option in the NICK WASH 600. For more information about W-DMX, visit www.wirelessdmx.com. To find out more about the NICK WASH 600, DELTA series and other DTS products, visit www.dts-lighting.it.
Share

Comments