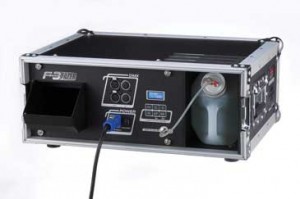 Conjuring up a thin layer of fog effects at concerts, shows and touring productions has never been easier, now that Elation Professional has introduced the Antari F-3 Fazer.  The ultimate road warrior, this new DMX-compatible 800W water-based dry fog machine comes integrated in its own rugged steel flight case, which keeps it securely protected from shock, nicks, dents and other damage during travel.  The F-3 Fazer's innovative case design also makes it easily stackable, so it can be packed up and transported with no fuss and hassle – and ready to roll anytime the show goes on the road.
But the F-3 is more than just a tough traveler – its advanced technology, performance and reliability truly set it apart as the "next phase" in fazers.  Featuring Antari's state-of-the-art pump system, it operates with super efficiency to produce a fine, dry fog with minimal fluid consumption. For example, just one liter of fog liquid will provide five hours of continuous fogging, so each bottle of fluid lasts longer and less time is spent re-filling the machine.
The fog produced by the F-3 is superior in quality, too. A fine and extremely dry fog, it won't cloud up a room or theater with heavy smoke, and it leaves no residue on floors, walls and other surfaces, making it a great choice for any performance or venue.  No liquid or residual build-up is left in the machine's heater either, resulting in less maintenance and a longer life.  Extremely silent in its operation, the F-3 is also great for film and video production.
Built-in DMX functionality is another feature offered by the F-3, giving users pinpoint control over their fog effects.  The machine can also be operated via external controls from a convenient LCD screen, which provides Timer Mode and Volume Mode options.
Powered by an 800-watt heater, the F-3 Fazer has a 2.7 liter tank and an output of 3,000 cubic feet per minute.  Its initial warm-up time is only 90 seconds, so it's ready to start fogging almost as soon as you turn it on.  The F-3 Fazer uses FLG-4 water-based heavy fog fluid.
The unit's travel-friendly case measures 21.25"L x 19.75"W x 9.25"H/ 540 x 500 x 235 mm, and weighs 45 lbs./ 20.5 kg. The MSRP of the Antari F-3 Fazer is $1,999.95. Learn more about the Antari F-3 Fazer by visiting Elation's website at www.elationlighting.com.
Share

Comments