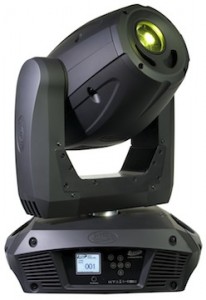 Elation has introduced the Platinum Spot 5R Pro, an upgraded version of its Platinum Spot 5R DMX moving head, which was introduced to the entertainment lighting industry last year with its ability to produce 575-watt-like brightness from an ultra-compact unit that's half the size and weight of a typical 575-watt fixture, uses half as much energy and offers a much longer 2,000-hour lamp life.
Like the original, the new Platinum Spot 5R Pro delivers these same capabilities thanks to its Philips MSD Platinum 5R Lamp Technology, an innovation that allows the creation of fixtures that are brighter and more powerful with superior light quality, yet are also faster, smaller, lighter weight, draw less energy and have longer-lasting lamps. But as its name suggests, the Platinum Spot 5R Pro also goes a step beyond to offer an expanded array of professional features and effects, making it the ultimate moving head spot for theaters, stage shows, concerts, productions, churches, nightclubs and other entertainment venues.
Among the new features on the Platinum Spot 5R Pro are a 16-bit CMY color-mixing system, which allows users to concoct a dazzling palette of custom colors, and a Variable Zoom (4 to 1) with 11° to 42° beam angle.  Additionally, the "Pro" model is equipped with a built-in EWDMX Wireless DMX Receiver, capable of receiving DMX signals wirelessly from up to 3,000' away that are sent via an Elation EWDMXT wireless DMX transmitter (sold separately).
n addition to its CMY color mixing system, Zoom and Wireless DMX receiver, the Platinum Spot 5R Pro is packed with all the great design tools and features found on the original, such as 8 vibrant dichroic colors, 22 gobos (8 rotating/indexing, 14 static), and a 3-facet rotating prism.  The Platinum Spot 5R Pro also has a Variable Frost Filter, which allows it to function as a hybrid spot/wash fixture; the frost diffuses its hard-edge spot beam into a wash-like effect, giving the unit even greater versatility.  Other features include a Motorized Iris, Motorized Focus, Variable Speed Shutter/Strobe and 0-100% Mechanical Dimmer.  In addition to its Wireless DMX receiver, the Platinum Spot 5R Pro includes 3-pin and 5-pin DMX connections.
Capable of operating in three different DMX channel modes, the standard being 23 channels, the Platinum Spot 5R Pro has a 540° (630° optional) pan and 265° tilt.  Another advantage of its innovative design is that it can move faster than traditional moving heads on pan and tilt, as well as on color/gobo changes.
At 16' distance, the Platinum Spot 5R Pro has an output of 6,350 LUX/ 590 foot-candles.  Yet the energy-efficient unit consumes only 305 watts of electricity at maximum use.  Much smaller than a conventional 575-moving head fixture, the Platinum Spot 5R Pro measures 14.6'L x 14.5"W x 18.4"H/ 371 x 368 x 467mm, and weighs 42 lbs./ 19 kg.  cETLus certification is currently pending and expected to be issued in March 2011.
The retail price of the Upgraded Elation Platinum Spot 5R is $4,199.95.  Learn more about the fixture at Elation's website, www.elationlighting.com.
Share

Comments