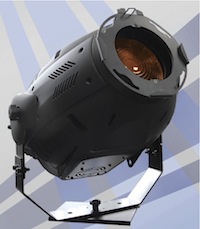 Elektralite has introduced a new version of their tungsten wash fixture, the PainCan 750.  The new fixture is very similar to it's older brother, the PaintCan 575 but with some new and updated features.  The biggest one being the new PaintCan 750 uses a GLD 750 watt lamp at 3200k.
Other features of the new PaitCan 750 include a much quilter fixture with variable speed cooling fans controlled by internal sensors, CMY mixing, a 6 color, bi-directional wheel with removable and interchangeable filters.
A new feature found on the PaintCan 750 is a beam shaping effect with a full frost filter. A nice addition to widen and soften the beam even further.
The PaintCan 750 take 100v, 115v and 230v, selectable on the fixture and feature a fully electronic dimming on board from 0 – 100%. The fixture weighs in at just 35lbs and is available in white or black. For more information, visit www.myelektralite.com.
Share

Comments