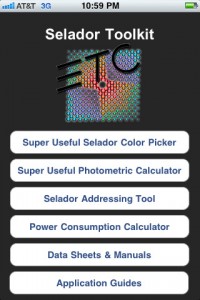 Seems like ETC is pumping out iOS apps left and right lately.  Earlier this week they released their ETC Rigging App and just yesterday their latest app, the Selador Toolkit.
The Selador Toolkit application – with features for both beginners and professionals – allows designers to mix their favorite colors and determine which models to use. The app also includes calculators to help stage electricians set DMX addresses for a series of Selador fixtures and gauge power usage. Data sheets, manuals, and application guides are provided to help accomplish the best overall results.
The Selador Toolkit app is FREE from the iTunes App Store and is a universal app, meaning that the same app works both on the iPhone, iPod Touch and the iPad.  Head over to the iTunes App Store and pick up your FREE copy of the ETC Selador Toolkit App.
Share

Comments