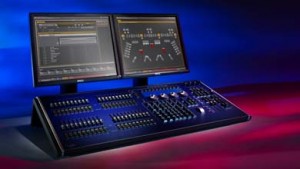 Yesterday, April 1st, I heard about the new member to the Congo family of lighting desk from ETC, the Congo Kid.  Here is more about the latest addition to the family from ETC's website.
Congo Kid is self-contained, with 40 master faders and all the controls from the Congo jr built into a portable console. Running Congo's potent operating software, Congo Kid is a fully independent main console or a convenient client or back-up desk for smaller shows.
Congo Kid has 40 built-in master faders with master and flash keys on all 40 — a great setup for busking small shows in multi-purpose venues. On-board MIDI connections and compatibility with ETC's Net3™ I/O and Show Control Gateways mean Congo Kid can play nicely with others when needed for more complex shows.
Learn more about the Congo Kid by visiting ETC website at www.etcconnect.com.
Share

Comments