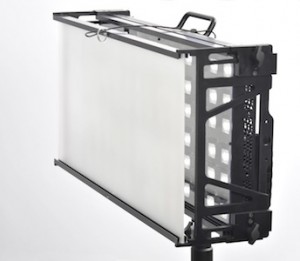 Gekko Technology announces a major new version of its karesslite LED soft light. The standard karesslite is switchable between daylight or tungsten colour temperatures. The new model can be adjusted to any intermediate colour temperature, allowing blending between 3200 and 5600 kelvin. It is scheduled for introduction at the US National Association of Broadcasters' exhibition in Las Vegas, April 11-14.
Equally at home both in and out of the studio, karesslite comes complete with an integral diffusion grating which makes the output single-source with minimal light loss. Egg crate options can be deployed to make the source more directional. Accessories available for karesslite include a Gekko swivel mount, yoke, encapsulated colour-correction gel sets, removable barndoors, honeycomb louvres, remote dimmer and soft transit case.
All karesslite fixtures can be operated under local control from the luminaire itself, wired to a remote dimmer or DMX. Consuming far less electricity than is required by traditional professional lighting, karesslite can be powered from one or two V-lock batteries, 12 to 40 volts DC into an XLR4 connection, or from mains.
Learn more about the karesslite by visiting Gekko Technology's website at www.gekkotechnology.com.
Share

Comments