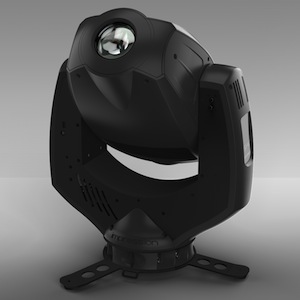 The Impression Spot One features an RGB LED engine with 8 or 16-bit control over each color, allowing for incredibly delicate color changes or instantaneous color bumps. The spectrum it achieves has been calibrated to be as wide as possible — from soft pastel colors to deep saturated shades, and everything in between. The color field also remains even across the entire beam, no matter the size or sharpness of focus. The electronic control of the LED engine allows full and smooth dimming over the entire range along with fast, solid state intensity snaps and variable speed strobe rates of between 1 and 10 flashes per second.
It has been designed for operation in noise-sensitive environments and will be as perfectly at home on a balcony rail in a Broadway theatre as it will in a busy TV studio environment, or touring the world as part of a concert system.
To control beam size output, the Impression Spot One features a high speed, fully variable iris — with an incredibly high speed of just 0.2 seconds from fully open to closed.
Also in the optical effects section of the fixture is a variable speed and bi-directional rotating prism, giving additional effects to the output beam, whether to create additional gobo images, to add an extra dimension to effects from the graphic wheel or to expand the beam even further in its simplest form.
Being an LED based fixture GLP has been able to keep the weight and size of the fixture as low as possible. Matching the impression Meisterstuck in terms of its baseless yoke, the impression spot one weighs just 48.5 lbs. / 22 kg. For ease of use anywhere around the world, the fixture also features a fully auto sensing power supply which operates anywhere from 100-240V at 50/60 Hz.
You can learn more about the GLP Impression Spot One by visiting their website at www.glp.de.
Share

Comments