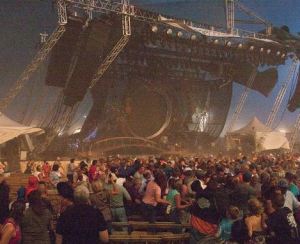 Late Saturday, August 13th, the main stage at the Indiana State Fair collapsed. Five people lost their lives in the accident and over 40 people were injured.  News outlets around our industry have been covering the story all weekend long.
From PLSN.com
A strong, isolated blast of wind that came in advance of a line of thunderstorms knocked down the main stage at the Indiana State Fair at 8:49 pm Aug. 13. The collapse killed four people on site. A fifth victim, Nathan Byrd, 51, died Aug. 14. A spotlight operator who fell with the rigging, Byrd had been among the 45 people hospitalized, many with serious injuries. Although other crew members were seen falling with the rigging, no additional deaths were reported as of mid-day Aug. 14.
From Blogger JimOnLight.com
Four people and one stagehand are dead and at least forty others are injured because something our industry put together to have a show collapsed in weather.  What happened?  Is this weather?  Were all of the proper safety features installed properly and working?  I'm not placing blame, that's not even remotely the point right now.  The point is that this has happened, it seems to be happening a fair amount lately in roughly this size of production, and now what are we going to do to mitigate this from happening?  I have heard more than one person after these events say something along the lines of "it happens, thank God no one was hurt" or "it happens, these people were just unlucky."
JimOnLight also included a video of the stage collapsing and photos from the day. He also has interviews with Theatre Safety Blogger, Erich Friend and Scott Blair.
From The Theatre Safety Blog
Following the weather induced collapse of stages in Ottawa, Canada and Tulsa, Oklahoma, this event should be a wake-up call to promoters, Health and Safety administrators, and insurance companies that shoddy stage construction, ill-prepared emergency plans, and apparently non-existent weather monitoring by qualified individuals has to be curtailed.  Lives are at stake and people are being injured and killed.
Everyone is keeping a close eye on this story. Stay tuned for more information!
Share

Comments