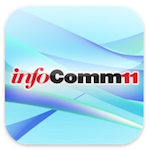 InfoComm 2011 is right around the corner!  It happens this week in Orlando Florida from June 15th through June 17th. I'll be heading down to InfoComm tomorrow to cover the show for both PLSN and iSquint.  If you are in town, find me, we'll meet up and have a good time… I AM SURE OF IT! Learn more about the InfoComm show by visiting www.infocommshow.org.
InfoComm has released an update to their app for both the iPhone and Android.  I am a HUGE supporter of show apps as I don't have to carry around a show magazine to find a booth I am looking for.  Not only does it save space, time and trees, but it is interactive!  Here is more about the app for both the iPhone and Android.
InfoComm 2011 will be filled with valuable networking activities and special events that will provide its projected 32,000 attendees with memorable experiences. The world's largest audiovisual trade show is being held June 11-18, 2011, at the Orange County Convention Center in Orlando, Fla.

"Attending InfoComm's tradeshow provides AV professionals and their customers a chance to see the latest in applied AV technologies at the biggest marketplace for commercial AV," said Randal A. Lemke, Ph.D., Executive Director and CEO, InfoComm International. "But it also provides great networking opportunities and a chance to celebrate the resiliency of the industry through challenging times."
You can download the iPhone app for FREE from the iTunes App Store.
You can download the Android App for FREE from the Android Market Place.
Share

Comments