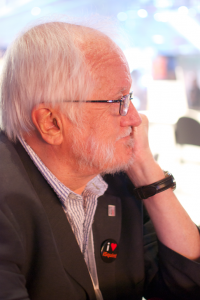 In this the final part of the iSquint Podcast from the Stage Seminars Stage Lighting Super Saturday, Episode 16 is an interview with legendary lighting design and author, Mr. Richard Pilbrow.  I sat down with Mr. Pilbrow at Super Saturday 2011 and talked about life, designing, super Saturday and of course technology in the industry.
If you didn't know, Mr. Pilbrow is a tech savey guy when it comes to lighting.  He shared some interesting new software titles for iOS devices, such as the much anticipated Lightwright Touch and Virtual Magic Sheet for the Mac.
Thank you to Mr. Pilbrow for sharing his thoughts here on the iSquint podcast along with reading the site!  I would alos like to thank Mr. Scott C. Parker and Mr. Sonny Sonnenfeld for allowing me access to Super Saturday to bring such great content and interviews to you.
If you haven't done so already check out episode 14, which is part one of my Super Saturday coverage with the keynote address given by Mr. Ken Billington. And part 2, episode 15 and interview with Mr. Sonny Sonnenfeld.  Don't forget, you can subscribe to the iSquint Podcast through iTunes and download it right to your iOS device.
iSquint Podcast
Share

Comments