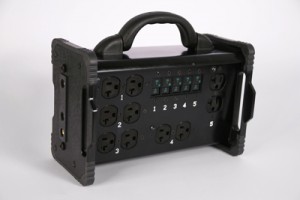 Lex Products has recently announced the Bento Box: a small, lightweight power distribution box for the Motion Picture market.
Weighing less than 8 pounds, the Bento Box is constructed for safe, easy use and is UL Listed. The new product is built of electrically insulated heavy duty PVC and designed to be resistant to corrosion, shock, and impact.  Boxes are compact for easy storage and portability and are stackable.  Specifically, six Bento Boxes fit in a six-gallon milk crate for easy carrying and storage.
The Bento Box features a 100 Amp Stage Pin inlet to (5) NEMA 5-20, 20 Amp duplex receptacles and a feed through 100 Amp Stage Pin receptacle, commonly referred to as the "lunch box" configuration.  Circuit breakers and indicator lights are mounted on the face plate for easy access and circuit identification.  Typical applications include powering lights or light tools and craft services in a Theatrical or Motion Picture production.
In addition, Lex is able to provide a range of customized solutions to fit specific needs for each of the standard Bento Box designs. For more information, visit The Lex Product website at www.lexproducts.com.
Share

Comments