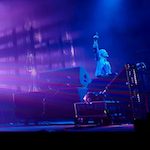 Martin Professional's popular eShop has expanded its functionality and changed its name to myMartin. Accessible at my.martin.com to pre-approved customers, myMartin is a convenient, online source for purchasing Martin Professional lighting, video and smoke products, as well as accessories, spare parts, swag and more.
The new, full-service eBusiness Web Site features a new look, a user-friendly navigation process and all new features. Users also have access to a host of useful information including all manner of product info, pricing, product availability, special campaigns, ordering information, account management and more.
Simple to use with a shopper-friendly purchasing process and secure payment system, myMartin provides instant access to all things Martin Professional from one convenient location, anytime, anywhere in the world.
Share

Comments