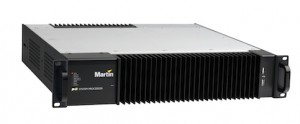 The P3-200 System Controller is a new addition to Martin Professional's P3 System Controller family for LED screens. It combines all the celebrated features of Martin's advanced P3-100 video signal controller yet adds SD-SDI, HD-SDI and 3G-SDI input capability for optimized use in TV/broadcast environments.
The P3-200 retains all the advantages of the P3-100 System Controller like built-in scaling and de-interlacing, multiple video protocol and resolution support, built-in graphical user interface, and direct DMX control of brightness, color, pixel mapping and more. It works with all Martin LED display systems (LC Series with P3 Upgrade Kit, LC Plus Series and EC Series) and is software and show file compatible with the P3-100 System Controller.
Martin P3 controllers allow full integration with lighting control via DMX512. Users can finally treat LED screens like lighting instruments with direct cue-by-cue control of brightness, image rotation and position, color temperature – and more. P3 System Controllers give full control over the video signal before the image is displayed on screen, and all at 16-bit color depth per color for perfect image quality without artifacts.
P3 System Controllers cover a wide variety of video input, enabling all possible video sources to be fed into Martin LED screens including composite video, S-Video, component video, DVI-D, SD-SDI, HD-SDI, 3G-SDI and even video straight off your desktop.
For more information, visit www.martin.com.
Share

Comments