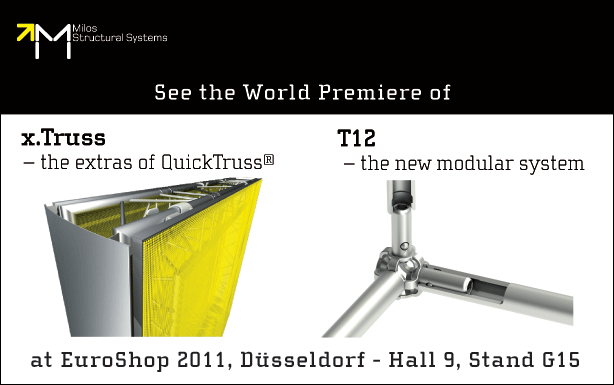 Milos Concepts will be in attendance at EuroShop 2011 in Düsseldorf Feburary 26th to March 2nd.  They will be debuting two new products, the x.Truss and the T12 Modular System. Düsseldorf.  x.Truss, the intelligent line of accessories compatible with QuickTruss systems, allows simple mounting of diverse materials – visibly or invisibly, horizontally or vertically, sustainably and effectively. Brackets, clamps, fabric profiles, and panel clips offer clever, simple solutions to increase QuickTruss' versatility and aesthetic appeal. Image features curved cladding panels and fabric profiles from x.Truss accessories line.
T12 is a new modular system that blurs the line between light source and structural element. LED lights are integrated into the structural tube profiles to create backlit displays, luminescent counters or spaces contoured with light. Standard components include curved profiles to add flourish to any space.
To learn more about x.Truss or the T12 Modular System, visit Milos website at www.milosgroup.com.
Share

Comments