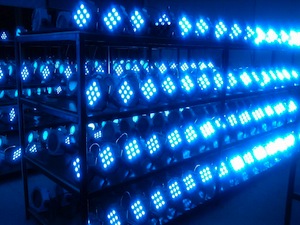 Due to growing sales of their LED lighting systems Multiform Lighting has moved into a new 24,000 sq ft manufacturing facility in Guangzhou province, S.E. China. With a staff of 70 enthusiastic employees, the company is about to begin manufacturing of the new IP65 rated  MultiSpot GII luminaires which provide higher light output and more sophisticated DMX control facilities than the current products.
In addition to the assembly line, the factory includes immersion testing, quality control, engineering, warehouse and administration departments.
To ensure that Multiform's legendary reputation for build quality and reliability in operation is maintained, after full functional testing, all luminaires are burnt in for 72 hours before being packed for container shipment to their international distributors. In addition to the Multiform brand, the factory produces a range of budget lighting products for a number of well known OEM customers.
The company also designs and manufactures a range of audio mixers for Hill Audio and Prosonar plus contract manufacturing for a number of renowned European brands. They will be exhibiting at Pro Light and Sound in Frankfurt where the new MultiSpot GII luminaires will be released.
For further information on Multiform products please visit our website at www.multiform-lighting.com.
Share

Comments