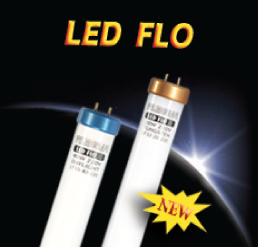 I have been hearing from friends that attended the NAB Show this year that the hidden jewel of the show was shown at the Film Gear booth. Film Gear was showing off a new LED replacement lamp for Kino Flo fixtures.
Kino Flo is well known in the TV and Film industry for their fluorescent fixtures. More over, people love the fluorescent lamps that Kino Flo makes because of the output and color rendering. A new line up of lamps are available not just for Kino Flo fixtures, but any fluorescent fixture that uses T12 lamps.
The new LED replacement lamps are call LED Flo and available from filmgear.net.  The new LED lamps are available in 2 foot and 4 foot lengths and in 110v or 220v as well as 5500k and 3200k.  All of the LED lamps have a CRI of 90+ and are able to dim from 0 – 100%.
Pricing and availability have not yet been announced.  You can learn more about the new lamps by visiting www.filmgear.net.
Share

Comments