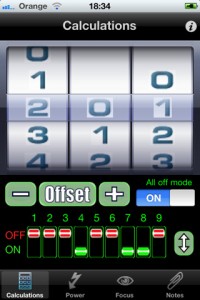 A New iOS app out on the market is DMX Focus by Foo Bar Interactive.  Yes, it is a DMX dip switch app… but wait it does more!  At least it better for a paid app. The app also has a basic power calculation section, DMX fixture focus ability and a notes section.
I am not going to get into the dip switch part of the app.  It's not like we haven't seen this function before in an iOS app.  What is neat is the focus part of the app. From the description:
DMX focus acts as a cost effect riggers focus remote to send messages to communicate with DMX512 lighting rigs. The App communicates over WIFI to a computer via a router or ad-hoc network and sends Open Sound Control messages to the EnttecOSC drive program which is designed to interface with the Enttec Pro USB Dongle. The system allows for DMX address queues to be defined, allowing the user to move up and down queue lists, sending 'Full' and 'Clear' messages to DMX channels , i.e. send HIGH / LOW values straight out to the Enttec Pro USB Dongle from their iPod or iPhone.
To learn more about the DMX Focus app, fire up your iTunes App Store and purchase the app for $1.99 USD.
Share

Comments