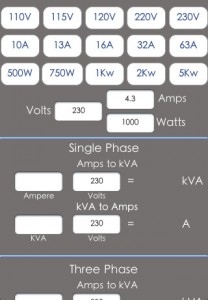 Andrew Derrington, the app developer that brought us the Lighting Handbook App just released his latest iOS app into the iTunes App Store, Electrical Formulas.
The Electrical Formulas App allows users to quickly and easily convert power formulas with out the need to remember all those tricky numbers. The app includes a Volt drop calculator for both mm2 and AWG cables (Single and 3 Phase). There is also a power equation calculator, Select your voltage, then enter either amps or watts to calculate the loading.
Common Calculations the app provides
kVA to Amps – Single and 3 Phase
Amps to kVA – Single and 3 Phase
kVA to kW
kW to kVA
The Electrical Formulas App will also be available to current Lighting Handbook users in the next couple of weeks as an in app purchase at a lower price of just: £1.19, $1.99, €1.59. Along with the update to Lighting Handbook App, there will be more fixtures added including the number one request more Chauvet fixtures. If you have additional fixture request to add to the Lighting Handbook App, email Andrew at Lightinghandbook@aderrington.co.uk.
You can learn more about the Electrical Formulas and Lighting Handbook App by visiting Andrew's website www.aderrington.co.uk. You can purchase Electrical Formulas App from the iTunes App Store for $1.99 USD.  To help celebrate the arrival of the new app, Andrew was kind enough to prove three codes for the app to give out here on iSquint. All you have to do is email me, info@isquint.net.  The first three emails in get a code. Thanks Andrew and keep up the great work!
Share

Comments