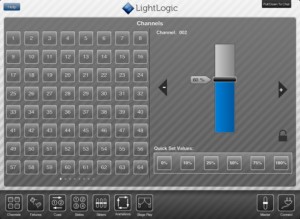 LightLogic is a theatrical lighting control system for iOS designed to work as an independent system. Use custom controls to quickly and easily setup fantastic looking lighting states, manipulate fixtures using purpose-built controls, communicate using the built in text chat and create complex lighting interactions using animations (iPad only).
The system is also designed to allow you to work as a team, instead of on your own. You can connect as many iOS devices running LightLogic to a single server and every device gets to control and manipulate the rig just as well as the rest. Use this feature to get your lights onto the rig, focused and ready to roll in record time.
In order for the system to work, you must have an Enttec DMX USD Pro connected to a Mac running OSX 10.5 or later. For more information or to purchase, ($49.99) the LightLogic App, visit the iTunes App Store.
Share

Comments