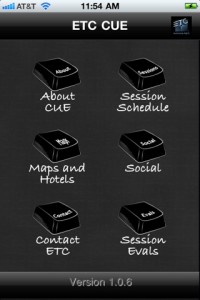 Are you heading to Wisconsin this weekend for ETC's Cue Sessions?  Before you head out the door, make sure to download ETC's latest iPhone app, ETC CUE.
Here is more about the app:
The CUE App is designed to provide information to the attendees of ETC's first ever end user conference: CUE. This app contains listings of all sessions and events including: detailed descriptions, session times, locations, and instructor bios. Also included in the app are maps to help you get around downtown Madison. Keep in touch with all the other attendees using the social media section! There is also a survey section that allows you to send feedback to ETC about the sessions. Enjoy the CUE App and we hope to see you in Madison!
The App is a FREE download the the iTunes App Store.
Share

Comments