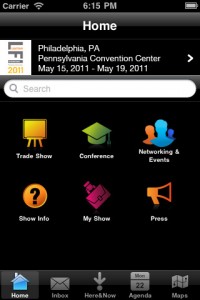 LightFair 2011 is less then a month away in the city of brotherly love, Philadelphia, PA.
LIGHTFAIR International (LFI) is the world's largest annual architectural and commercial lighting trade show and conference. LFI has a proven track record of bringing top international and domestic Architectural, Design, Engineering and Lighting professionals together with exhibitors from around the world.
Lightfair has recently announced the release of their iOS app, LIGHTFAIR INT'L.  Almost every larger trade show is putting out an app for their event.  It make sense!  You have the entire show catalog in your pocket rather than having a printed version in your bag or hands. Hey, it saves trees too!
Here is more about the app.
LIGHTFAIR INT'L is the official application of LIGHTFAIR® International (LFI). Use this tool to navigate the show floor, search the exhibitor directory, view networking events, create your own show agenda and review the Conference schedule.
Lightfair 2011 runs from May 15th to May 19th at the Philadelphia Convention Center.  Learn more about Lightfair at their website www.lightfair.com. Visit the iTunes App Store to download the LIGHTFAIR INT'L app for FREE.
Share

Comments