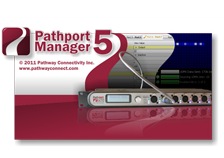 The set-up and management of Pathway Connectivity's Pathport line of DMX-over-Ethernet nodes has just gotten easier and more comprehensive.
A feature which will appeal to both casual and power users is the new IP-address auto-corrector that simplifies configuration and trouble shooting.  "The most common support call we get is for help with IP addressing," explains Robert Armstrong, Manager of Technical Sales and Support for Pathway.  "This release of Pathport Manager detects IP problems and corrects them on the fly.  No other node configuration tool does this."
Also new is an integrated RDM configuration screen.  "Although RDM is starting to appear in moving lights and LED fixtures, we're in a bit of a chicken-and-egg situation," says Armstrong.  "There's no point in having a feature if you can't reach it.  By adding E1.20 management, we're giving anyone who ever bought a Pathport the ability to unlock the value RDM brings – at no extra cost to them.  Not only can you change DMX start addresses and operating modes, you can also retrieve sensor information and manufacturer-specific properties."
New Pathport firmware versions, bundled with the release, extend the reach of Pathport networks in other ways.  E1.31 streaming ACN is fully supported, with transmit and receive of both Draft 20 and the final ANSI release selectable by the user.  A virtual dipswitch allows Pathports to listen to Art-Net universe 0:0, making Pathports a natural bridge between Art-Net-based media servers and Net3 installations, among others.
Pathport Manager 5.1 recognizes the Strand Palette consoles, ShowCAD controllers and the Jands Vista, and will discover and configure the new Pathport VIA 10+1 gigabit switch, introduced at LDI 2010.  And of great value to venues using Strand and Entertainment Technology raceway dimmers, Pathport Manager 5.1 unlocks full protocol support in those products, including Art-Net and sACN.
Pathport Manager 5.1 is a free download from the Pathway Connectivity website.   Windows users can choose between installer versions with or without an embedded Java Runtime Enviroment.  Separate versions for Mac and Linux users are also available on the site.  Just go to www.pathwayconnect.com and look for the link on the home page.
Share

Comments