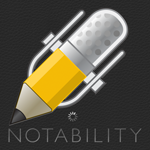 As a student of the school of all things Apple, there is a distinct advantage to being able to carry my iPad around without a laptop and other tools that we used to use for learning and note taking.  With the app store, when you run into a problem, you find a digital tool to fill in a needed set of functions. One of those tools is the app, Notability.
Notability is like having a digital, interactive composition book that you can add as many dividers or subjects to as needed.  Its starts with a basic layout.  You add subjects to the left hand column and notes to the right. Your notes will automatically be entered in the category they are created in, though you can move them later.
The subject screen gives you the option of sorting notes by name or date.  It also tells you if an audio recording is linked to the note and what size it is.  The subject tool bar contains the Edit, Export, Search and New Note buttons. Pressing the Edit button opens a sub-menu that gives you the controls to Move and Delete notes within a subject.  It functions much the way the control does in the iPad Mail app.
The editor has a basic, nice clean interface that acts like a word processor.  It has the ability to change fonts, colors, size and style of text entered.  The editor controls are easy to remember. The top menu bar contains the Subject button, Export options, Volume, Digital Recorder controls, Undo, Redo, and Search. I would be negligent if I didn't mention that the export button has options for Email, iTunes (through sync), Dropbox, and AirPrint.  A Dropbox.com account is required to use that feature.
So far, the digital recorder is definitely my favorite function in the editor. Using the built in mic, it functions as your own personal reporter.  I know, I know, iPhone can already do that.  But the best part is, the recording is saved and stored with the note.  You don't have to go searching for your meeting notes or your research.  It is all there in the same place.
The bottom toolbar contains the import, indent left/right, bullet list, font, and note navigation controls.  The import button has options for pulling images from your iPad library and dropping them onto the screen.  It can also grab web page clips and has a function called figure.  Figure opens a painting or drawing screen you can create graphics in and then lets you place them on the note.  You can also edit imported photos using the same "figure" screen.
All in all, I found Notability to be a clean, easy to learn program that fits nicely into a niche market for students and on-the-go professionals that have to take and sort a great deal of notes.  As a lighting designer, I like the fact that I can sit down for a meeting with clients, hit record (letting them know, of course) and record the whole design meeting while I am capturing text notes.  It gives me one more layer of security in my design.  Notability is an excellent addition to my app collection, and I hope its one you'll consider as well.
Notability is available for download from the Apple iTunes App Store at a cost of $2.99 (40% off) for a limited time.
Share

Comments