ROBIN MMX Spot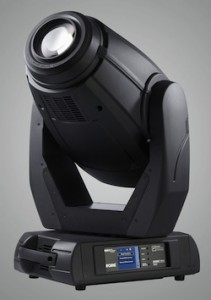 This new fixture is the new generation of 1200W Spot fixtures and the first in a new series of Robe moving lights designed to be energy efficient and smaller in keeping with the ROBIN (Robe Innovative Technology). The MMX Spot is compact, lightweight and has a small base and expediently sized, and is expected to be a major hit with rental companies and installations alike.
Using the innovative Phillips MSR Platinum 35 lamp, and combined with a sophisticated optical system, the MMX Spot is a true equivalent of any 1200W Spotlight moving head on the market today. In some features, the MMX is as bright as a 1500W spotlight and at the same time energy saving – consuming about 30% less power than the current 1200W products.
ROBIN 300 LEDWash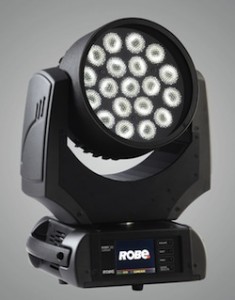 Following the ROBIN 600 LEDWash, Robe's fastest ever selling product, comes the 300 version which is even smaller and neater in construction, with all the features of the 600 at a highly competitive price.
This will be ideal for small installations and places where space is at a premium. There is the option to simulate tungsten lamp behavior when dimming and switching off, complete with 'red effect' and thermal delay. Made with the same Cree 10W multichip RGBW LEDs as the 600 LEDWash, it has all the fabulous colour mixing and homogenisation qualities of the 600, plus true whites with a selection of pre-programmed color temperatures   (2700, 3200, 4200, 5600 & 8000K).
CityFlex 48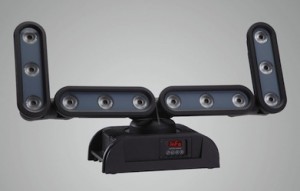 A completely user configurable LED 'batten' consisting of 4 modules using the latest Cree 10W RGBW multichip LEDs. These customizable units have a strong and uniform light output and are suitable for any application. The unique design (patent pending) allows multiple lighting formats from one fixture – be it a compact floodlight format, traditional linear LED format or a variety of different angled options. The fixture´s incredible flexibility means previously unobtainable effects are now available ….. from a single unit.
Housed in a durable aluminum IP 65 rated casing, the CityFlex48 has excellent color mixing from a single-point-of-source with a definable pixel pitch.  A universal mounting system gives multiple rigging options for floor, wall or on to trussing. A separate quiet convection cooled control unit running via DMX or RDM allows easy setup via control display screens, while DMX and power lines can be daisy chained via Powercon connectors.
ROBIN 600 PureWhite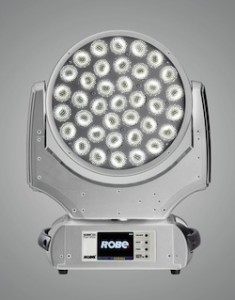 Following huge demand for high quality moving LED fixtures in the wake of  its ROBIN 600 LEDWash (RGBW), Robe launches the ROBIN 600 PureWhite, a white version for applications like TV, theatres, exhibitions and conferences and anywhere needing a high quality, low powered white light with all the features and functionality of a moving light – like pan/tilt & zoom etc.
There will be 3 versions – cool white (CW) at 6000K, warm white (WW) at 3200K and Smart White (SW), which is variable from 3200 – 6500K. Used as a traditional white light source, the ROBIN 600 PureWhite has the potential to dramatically reduce heat output in studios, emitting virtually no heat due to its superior cooling management. Costs will be further slashed because less AC will be required to keep studios at a comfortable temperature for everyone working.
The ROBIN 600 PureWhite features the same 3 rings of 10W Cree multichip LEDs as its color changing counterpart, a fully homogenized light engine with no shadows or pixelation, producing a beautiful smooth quality of light throughout the full beam path. The Cree multichip combined with Robe's lens optimization has enabled perfect whites to be produced by the ROBIN 600 PureWhite series. Ring control, and dimming and other features and effects are all the same as the LEDWash 600 RGBW, making this a massively versatile ground breaking addition to Robe's ROBIN range.
DigitalSpot 3500 DT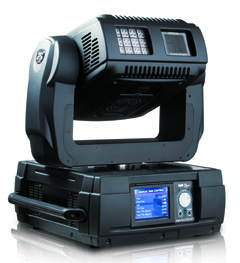 The new Robe DigitalSpot 3500 DT is a more powerful, enhanced version of the very successful DigitalSpot 3000 DT, retaining all the best loved features of the original unit, together with a host of new ones. Combining the technologies of a moving light and video projector, Robe produces another powerful tool for their Digital Series.
Features include:
BenQ MX 660 projector using TI® DLP® technology
Contrast Ratio of 5000:1
3200 ANSI lumen light output
Options for DVI/VGA or SDI/ASI grabbing cards
Composite video input via BNC connector
Share

Comments