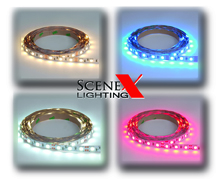 GLP Inc.'s scenic division, Scenex Lighting, has launched a full range of flexible LED tapes that can easily be incorporated into set pieces or architectural elements, temporarily or permanently.
All of the standard light strips in the range have an IP 55 rating, making them perfectly suitable for outdoor use as well as indoor. Using a strong 3M adhesive backing it is easy to quickly adhere the strips exactly where they are needed and be sure that they will stay there, and as each tape can be cut at small intervals, it's easy to customize them to fit any layout, piece of furniture or staging. The range is extensive with strips available in a variety of color options, including tricolor RGB LED's, bright white LED's at 3200K or 6500K, and a variety of individual single colors.
With a variety of pixel densities up to 17mm to choose from, each strip has a wide field angle of 120 degrees ensuring great even coverage across a wide area – even at close range, or as a great eye candy effect with wide audience viewing angles. All of the LED tapes run from 12V low voltage transformers and can be DMX controlled through a variety of interface options, available in the Scenex range.
More information about the flexible LED tapes visit their website at www.germanlightproducts.com.
Share

Comments