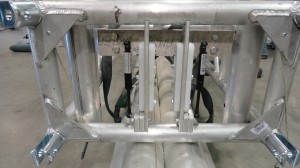 Kai Knox Technologies and Scott Almand Designs today announced the launch of Shock Boxx, the first-ever pre-rig lighting truss shock system. This breakthrough product protects expensive truss-mounted lighting and video equipment as it's transported around the world, finally providing a solution to a common and costly challenge for the touring market.
This revolutionary, "patent pending" technology is the result of a collaboration between Heather Roberts of Kai Knox Technologies and Scott Almand of Scott Almand Designs. Their combined 30 years experience in the entertainment industry and their passion for meeting client needs with innovative solutions inspired them to design Shock Boxx.
A Shock Boxx unit is comprised of a box-shaped carriage system, a shock system, and locator bars. First, the carriage system is positioned snuggly inside the pre-rigged truss. Then the shocks are installed on the sides of the truss. Finally, the locator bars are positioned in the desired location of the lighting fixtures. Integrating Shock Box into existing truss inventory is fast and convenient—the easy-to-assemble retrofit kit can be installed in less than ten minutes.
Available in multiple configurations and sizes, Shock Boxx is compatible with any standard pre-rig truss (26 in. x 30 in.) or HUD/GT truss (14 in. x 24 in.) system. Shock Boxx begins shipping on July 1st and pre-orders are being accepted now. For more information, visit www.shock-boxx.com.
Share

Comments