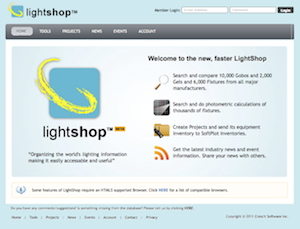 Stage Research, the developers of entertainment software such as SFX, Soft Plot and Light Factory have announced the beta release of a new website, LightShop.
LightShop is an online database that deals with every aspect of entertainment lighting. You will be able to find a wide range of reference tools from finding replacement lamps for thousands of fixtures, gobos from the leading gobo manufacturers, downloadable PDF's of lighting desk manuals to lighting data and photometric calculators.
The LightShop website will also integrate into Stage Research's SoftPlot and Light Factory software aiding in the design process.  Users will be able to build a project online and import that information in to the software to help build and create a show quicker and easier.
During the three month trial period, the entire LightShop website will be free.  After the beta testing period, general data will remain free of charge.  To access the advanced features of the website and integration with Stage Research's software, there will be a yearly subscription fee, which has yet to be announced.
Check out the LightShop website while it is still in beta by visiting www.lightshoponline.com.
Share

Comments