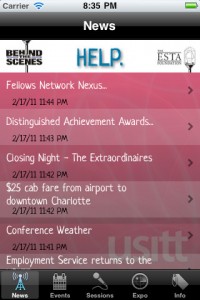 The New USITT iOS App is out and available.  This is a totally new app and different from the 2010 app.  Here is more from Userful Development, the developers of the app.
Sponsored by Barbizon Lighting Co. and Theatre Consultants Collaborative, the app has been developed by Useful Development, Inc. to provide information about the 2011 Conference and Stage Expo in Charlotte, North Carolina.
The Application Includes:
News (Constantly updated by USITT)
Events (Conference Events Schedule)
Sessions (Conference Sessions Schedule)
MyConference planning
MyExpo planning
Exhibitors
Convention Center & Expo Maps
…and more!
Conference attendees will be able to utilize the app to access times and details for almost everything happening at the USITT 2011 Conference and Stage Expo! You can download the FREE app from the iTunes App Store.
Share

Comments