Man am I exhausted. For the past three days Cirque Du Soleil and USITT have taken myself and 31 others on a chance of a life time. From 8:30AM till 5 sometimes 11PM we were at the mercy of the schedule, and boy was it worth it.
Today we summed up our training. In the automation section we practiced on the control boards a bit more. Joe and I were on the Acrobat G6. Boy is that thing a beast. In class we learned more about the shell of the board, learning how to change limits and make additions and corrections to the database. As well we learned how to "sculpt" a path using the eChameleon software. It was great to have hands on experience in this section as most colleges do not have access to funds in order to afford most of the gear we were using. But I have to give one more big shout out to our instructor Alex Hitchcock of Stage Technologies. He was a great instructor with years upon years of experience.
Then we were off to Mystere. It was great to see this show last as it was a great culmination from new and fancy to the oldest Cirque show in Vegas. Seeing this space allowed us to see how and why Cirque made decisions on later productions. It was also great to see a Cirque show with a larger focus on acrobatics. We toured along side a practice for the trapeze artists.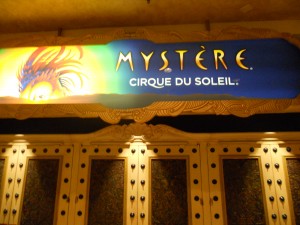 This space just has so much history to it. It was great to walk down the hall of memories and see regards to past and present performers, singed drum sticks, a drum head from a large Japanese drum etc…
One of the coolest elements for me though was the paint treatment all over the set. It was my favorite of any show I have ever seen. Maybe thats because I've spent way to much time with my scenic painter/ set designer girlfriend, but it was fascinating to see the different treatments and techniques, as well to learn that the original floor had anywhere from 90 to 200 different layers of paint. In all it seems like a great show and has tons and tons of history.
This experience has been like none other. I want to thank all those at Cirque and USITT for this opportunity, my brain is full with so much more information all of which I will bring back and share with my fellow peers. Students, I urge you all to apply for next year's Elite Weekend. It was a simple FREE application form, for a wonderful FREE training seminar. So if you want to see what it is Cirque does and how they do it, fill out and application and APPLY APPLY APPLY!
Once again thank you everyone at Cirque and USITT as well as my fellow students, many bonds were made this weekend and thru the awesome world of Facebook I hope we will continue to see each other in the future.
Thank you everyone, it's been a blast!
Share

Comments